19 Jan
It's time we admit that the wedding planning binder is slightly outdated in this digital age. It's amazing how many phone apps exist to help couples plan their wedding, and with so many options we also know it may be hard to know which ones are great and others no as much. We've taken a look at 5 of them.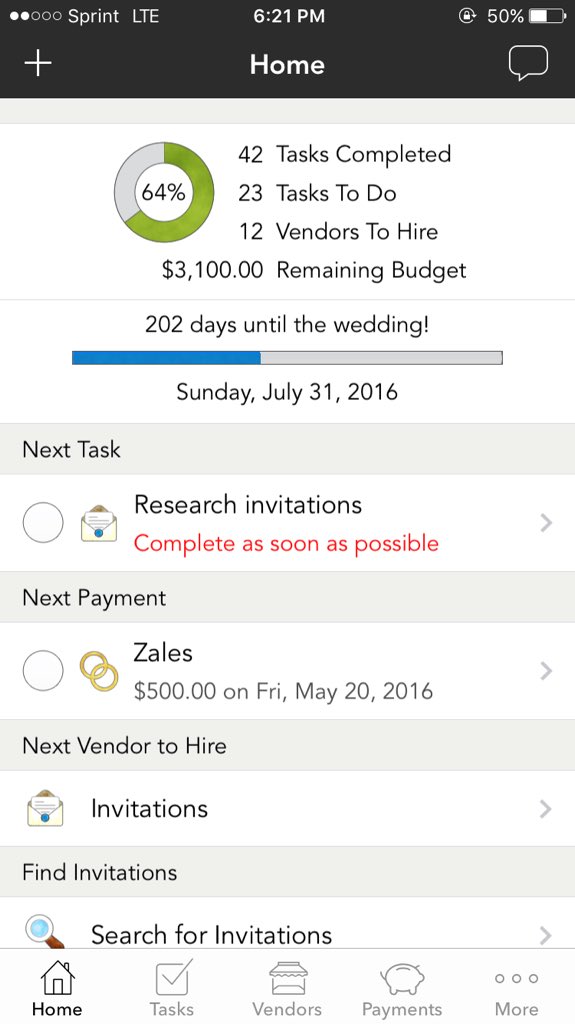 1. WeddingHappy is a smart wedding planning app. It's smart in that it asks for your anticipated wedding date then builds a customized schedule, along with a to-do checklist so you can work out exactly what needs to get done and by when. Alongside that is payment tracking, a spending summary, options for co-ordinating vendor contact details and the ability to sync with other users.
2. iWedPlanner hopes to cover all the wedding planning bases. There's a to-do list feature, keeping track of everything you need to do, you can also organize all your vendors in the app and take notes along the way. Want to keep track of the RSVPs? iWedPlanner will do that too, and there's even a seating arrangement.
3. Table planning is a nightmare for those trying to keep all their guests happy. Table Plan simplifies the process a little by allowing you to easily add as many guests as you like before moving them around on screen. You can set different restrictions, thereby leaving the app to do it automatically if you want.
4. LadyMarry Wedding Planner offers a customizable wedding checklist to prepare you for the big day. It doesn't just offer a simple to-do list though, also providing you with relevant tips and tricks as you go along. With regular blogs and other resources, it's sure to help you keep on top of things. You can easily organize things with your wedding planner through the app, too.
5. While not made specifically with weddings in mind, Mint is a popular free money-management site for a reason: It's easy to use, syncing with your bank account and credit cards so you can monitor your spending and move funds around as needed. Create a wedding budget and stay on track, thanks to weekly email summaries and text reminders when payments are due.
This last app isn't exactly one for planning, but one for the wedding itself. Over the years we have seen families gather together in Indianapolis from all corners of the world. We have also witness the heartache some couples have when their loved ones cannot make the trip. While unfortunate, it doesn't mean that family and friends cannot take part in such a special moment in life.
For those that can't attend, consider a company like WebWeb. Through the app, you can send an invite to your guests who couldn't attend and let them get a 360 degree view of the whole day right on their phones.